Five (5) Under-Appreciated Sources for Local Link Building Success
A Quick History Lesson on Link Building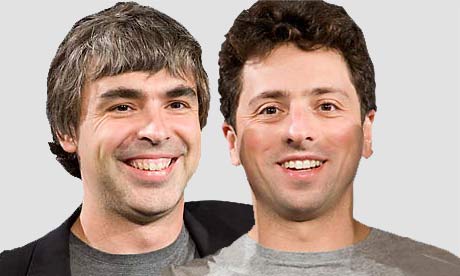 In 1996 Larry Page and Sergey Brin (then PhD students at Stanford University) conducted a research project around building a search engine that produced much more relevant search results than the competition of the late 1990's (AltaVista, DogPile, Lycos, Yahoo).
Importantly, the idea that would differentiate Google from other search engines was that Google's algorithm would rank the most authoritative websites first over those websites with less authority by analyzing the "number of links" and the "quality of links" pointing from one website to another website.
The name of this process was dubbed "Page Rank" (named after Larry Page) and was based on the concept of "works cited," which is common in academic research.
Think back to your high school days (or more likely college) when you either wrote or read an academic paper that included a works citied (also referred to as a bibliography) at the end of the paper.
The works cited included a list of all the authorities that were relied upon to advance the scientific or intellectual argument that was being made.
This is the same concept that Larry and Sergey used as the foundation of the Google search algorithm (and remains so to this day).
One assumption is that the sources listed in the works cited are authorities.
A further assumption is that the more often any authority is cited across sources, as well as the source of the citation determines overall authority.
For instance, getting cited (aka linked to) by lots of sources is good as is getting cited by highly authoritative sources (the New York Times versus Orlando Weekly).
Here's where I make the final connection between works cited and link building….
Websites with more links (authors with more citations) from one or multiple highly authoritative sources (authors with citations from major sources) are deemed worthy of ranking above those websites with less authority…..and indeed this is usually the case.
However, ranking on Google is more than just having a lot of high quality links from others websites to your website…but all else being considered equal those other ranking factors aren't as important.
Local Link Building
You may be wondering – If getting as many high quality links as possible is all it takes to rank high on Google why have a special discussion about building links for local businesses?
Isn't it all the same?
The short answer = no.
The reality is that the original Google algorithm didn't prioritize local intent and geography when ranking websites, but for local businesses it's very important to recognize that it's not necessarily about how many links you have and the quality of those links (like it is for National or International businesses), as much as it is the geographic location of those high quality links.
Less (if geographically relevant) is more.
Let me state that a bit more precisely: Local link building is about building quality links in your specific geographic location (or the location(s) where you conduct business).
For instance, if you are a small business owner in Wilkes Barre, Pennsylvania and your core business is conducted in and around Wilkes Barre then it makes sense for you to focus on getting links from sources in and immediately around the Wilkes Barre area.
Likewise, if you're a dental spa, then you'll have to consider looking for purpose-built Dentist Websites to be built for your company.
Five (5) Under-appreciated Sources for Local Link Building Success
(1) Local Charities – Has your business ever donated money to a local charity? Does the local charity have a donors Web page to thank sponsors? If so ask them for a link from your businesses name to your website. If they don't have a page ask them to create them and make sure they link to you. BTW – here's an example of two charity links I got from the Nascar Foundation website from a local celebrity poker tournament I sponsored simply because I asked.
(2) Local Vendors / Partners – All or most of your vendors have websites. All of your vendors have the ability to link to you. You also have the ability to link to them on a partners or vendors page. For instance, if you own a local pizza restaurant you likely order boxes, ingredients, business uniforms, and more from local vendors. Each of these vendors are excellent local link building partners.
(3) Local Media Outlets – As I mention above Google looks at quantity, as well as quality of links. Local media outlets (Newspaper, radio, print) tend to be the most authoritative sources for purposes of acquiring high quality links. Most of the time – even if you've been mentioned in a story – the media source won't link to you as standard practice. However, they might or may if you ask. If you haven't been covered in the local news you should think about how you might be able to get some free press. If that's not on your to-do list then you can reach out to the local media outlet and see if they are any linking opportunities – you very well might spark up and opportunity to be interviews or you may find that they own a local directory (see #4 below) or have some other opportunity for you to earn a link.
(4) Local Business Directories – Getting listed in business directories (local and National) is important to local search engine optimization. There are at least 20 critical business directories that every local business should be listed – they include Google, Yelp, Superpages, Foursquare, Acxiom, Local.com, Bing, Hotfrog, Bestoftheweb.com, ReferLocal, Yahoo, and more. Sign-up to LSEO for FREE for the full list. In most communities there are also local directories that focus on your specific geographic location – you should unlock your listing on those directories and make sure you are getting a link.
(5) Local Chamber's of Commerce and Related Groups – By becoming a Member of your local Chamber of Commerce you will unlock a lot of Member-only benefits – in fact, most Chamber's have an online member directory and if you ask them they will link to you. In addition, you are likely a member of one or more local groups (i.e. Wilkes Barre Bar Association, Wilkes Barre Association of [fill in the bank]) – all of these organizations are likely to have a website and most of them will link to you if you ask.
Note that local link building takes some work and in most cased you'll be asking for a link to your website that doesn't exist yet. However, if you don't ask you'll never get the link.
Local link building is a critical component of your search engine optimization.
When building links for your business focus on getting lots of links from high authority websites within your specific geographic location (when possible).
If you'd like more tips and strategies for building links to your website check out the LSEO Local SEO Software and take it for a FREE 14-day trial.